Sanjay Puri is one of the leading architects in India; he has inspired thousands of students and upcoming architects with his work, passion, and love for this field. Day by day, his popularity is increasing among the students. He is the founder of "Sanjay Puri Architects", which has won numerous awards and recognition around the world for its innovative ideas and sustainable design. [1] His firm is listed in the top 100 architects worldwide by Archdaily and in the top 136 design firms by Architizer, New York. [2] As of now, his firm has won a total of 360+ international and national awards. He has been honored with most WA Awards, and he became a member of RIBA in 2020 and is still an honored member. [3]
With a diverse portfolio of townships, schools, hotels, retail, and office buildings and a firm that runs with a staff of 81 people, they continue their quest to create contextually innovative design solutions and spaces that revolutionize how they are experienced and sustainable on a large scale. [2]
What do you think about him? Why is he becoming the modern face of architecture in India? What influences him? If you'd like this type of blog, then share it with your friends and tell us which topic you want to read next from architecture. Comment below…
Early life
Sanjay Puri was born in 1965 in Rajasthan, India. He belonged to a family of doctors. [4] He completed his schooling at Mayo College in Ajmer, India. Then he joined Junior College for further studies at St. Xavier's College, Mumbai, India. [5] His family always supported his decisions and encouraged him to follow them. While reading the novel "Fountainhead," his first interest in architecture developed at the age of 16. [4] After completing his schooling, he joined Hafeez Contractor for a summer internship program, even before he entered architecture college. He joined an architecture college in 1983 at Rachna Sansad's academy of architecture in Mumbai, India.
His architectural journey started before entering college; he was visiting sites, drafting plans, and helping with different projects while working with Hafeez Contractor. Before entering college, he had great knowledge of architecture. Even though he was studying in college he continued working at Hafeez Contractor. He worked through five years of college and also managed to finish 20–25 individual projects on his own. He has described his hardworking student life in many interviews, and I recommend you guys hear those. [6]
Even before his final year results were announced, he was honored with the title of "associate architect" at Hafeez Contractor. It was the biggest landmark for him at that time. [7]
Recognition
He was very enthusiastic about this field from the beginning. He worked under the mentorship of Hafeez Contractor while he was pursuing architecture and continued to work with him for the next four years. After that, he founded "Sanjay Puri Architects" in 1992. His first project was to design a 54-acre township in Vasai, which he won through a commission. [4] After that, he worked on several other projects and continued to grow his firm.
Major breaks in his career began when he designed "The Courtyard House" in Rajasthan, India, and "Ishatvam 9" in Jharkhand, India. These two projects and several others, like 72 Screens in Jaipur and Origami House in Pune, gave him recognition and established him in this field. He began gaining popularity and was known by various architects and firms around the world.
They have created volumetric variations that are angled in different directions in courtyard houses. The house was designed with the principles of Indian courtyard houses in mind. This house has large openings for good views and cross-ventilation, protecting it from Rajasthan's harsh climatic conditions.
The other one is a residential building in Ranchi called "Ishatvam 9," which has extensive open spaces and private gardens. Private balconies act as extensions of the indoor spaces, with every room opening onto these balconies. This also became a great element to enhance the elevation of the building in an organic and sculpted way. [8] [4]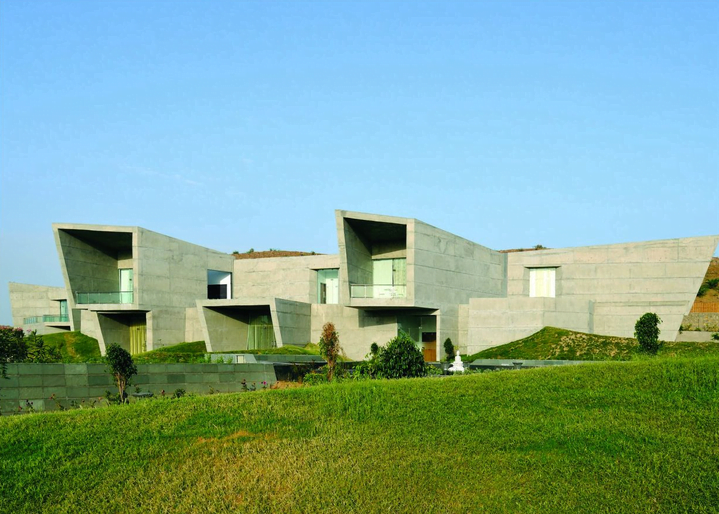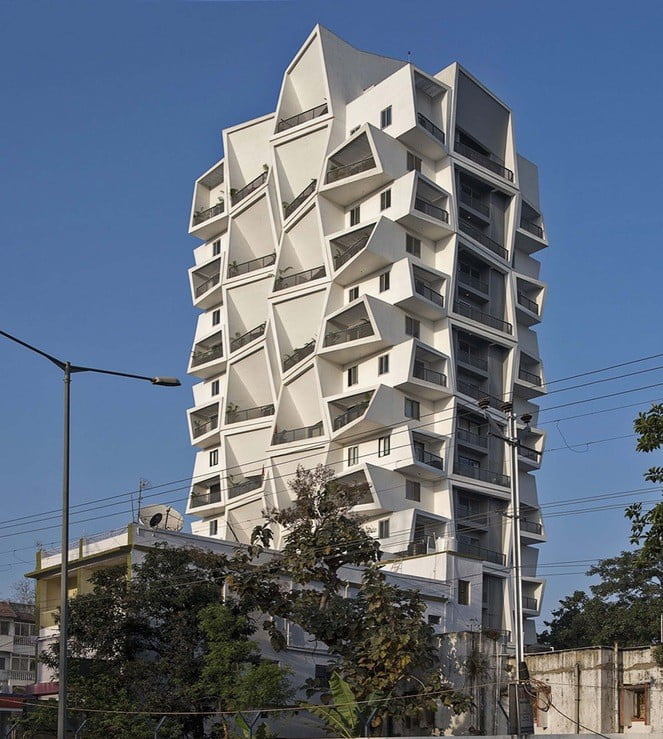 Inspiration for students and aspiring architects
His hardworking journey and dedication became an inspiration for many students and architects around the world. Many young students and architects have benefited from Sanjay Puri's mentorship, which has helped to develop their abilities and point them in the right direction. He is regarded as a role model for many in the profession because of his eagerness to impart his knowledge and expertise.
He has 365K+ followers on Instagram, where he interacts with students by uploading his work and explaining it in detail. His willingness to share his knowledge and expertise has inspired a new generation of architects.
He has been a speaker at many architectural exhibitions, like FOAID, Interior Design ID, etc. He has represented India in various types of architecture awards and also won several awards.
Design Philosophy, Ideology & Architectural Style
Sanjay Puri's main goal is to create a new and refreshing space for all of its users while also providing them with a sustainable building or home. One of the important aspects of his design is to use maximum natural light, space, and ventilation. He always thinks about achieving a sustainable and efficient building.
With the changing trends in architecture, different evolutions can be seen, and effective design is now mandatory for users because of climatic conditions and several other factors. He has also evolved over the last 30 years and focused on sustainable and effective design. He believes that architects can create the most impact if they start building sustainable designs using sustainable materials.
Sanjay Puri's design mantra is "to never repeat any design". He designs every project from scratch, making it unique and responsive to the site conditions and context. Every design should follow a different story because every site has different scenarios surrounding it. He thrives on experimentation, uniqueness, and novelty. Even today, in the software era, he still designs by sketching it first on paper. He takes two hours out of his day before sending the final design to his team. Puri believes that sketching is the best way to translate your thoughts onto paper and that it is superior to software. He believes that there cannot be a single design philosophy that applies to all projects and that the best way to keep it contextual is to resolve designs in a way that allows people to experience something new.
The architectural style of Sanjay Puri is described as avant-garde, a style that focuses on experimentation and uniqueness. [8]
Awards
Winning the LEAF Awards for Best Interior Architecture in London in 2021, the World Architecture Festival's Best Housing Project of the Year in Amsterdam in 2018, and the World's Best Residential Building in the LEAF Awards in London in 2017, as of now, his firm has won a total of 360+ international and national awards. He has been honored with the most WA Awards. [9]
To read more about his awards and achievements visit his website:- Sanjay Puri Architects
Famous Projects
The Street, Mathura
The Reservoir, Rajasthan
The Courtyard House, Rajasthan
Bombay Arts Society, Mumbai
Ishatvam 9, Ranchi
Contact Info.
Address:- 20, Famous studio lane, mahalaxmi, mumbai, india, 400011
Phone no:- 9892724692
Email :- [email protected]
Instagram :- @sanjay_puri_architects [10]
"Evolving a dialogue of spaces that transcend the ordinary in the way they are perceived while resolving the functional aspects in a more conducive way than ways explored earlier and simultaneously forming volumes sculpturally is innovation in the architectural sense."Ar. Sanjay Puri [11]