Basic Definition of Walk-in Closet
A walk-in closet, also known as a dressing area or walk-in wardrobe, is a larger storage space that is designed to store clothing, footwear, handbags, and other accessories. It is a private space that is typically designed within a bedroom, either attached to a toilet or bathroom, or just with the bedroom and used as a changing area. It gives a user a bigger and more covered space where an individual can enter and dress, moving around freely. Designing it like this gives a different experience than our traditional wardrobes or reach-in closets, which have limited storage space and user accessibility.
A walking closet can be designed as per the client's budget, the available space for it, and the storage requirements they have. It can be planned in different shapes, and the types can vary as per the materials and doors you want to provide for it. A walk-in closet can be planned with or without the door. (It depends on the client's requirements, needs, and the architect's design.) [1] [3]
Planning a walk-in closet within a bedroom provides the user with convenient access to clothing and other accessories. It also enhances the overall accessibility, functionality, and luxury of the master suite.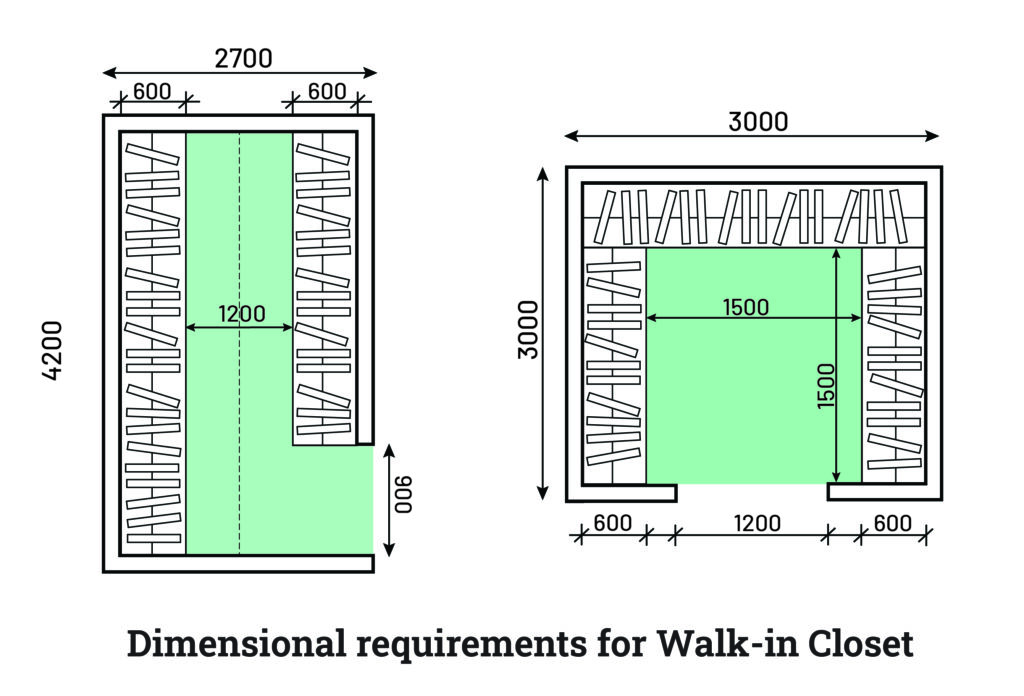 Types of Walk-in Closet based on the layout
As such, there are no standard dimensions for a walk-in closet, but it can be designed at a minimum of 1500 x 1500 mm (5' x 5' ft.) for a single person.
For two people, the dimensions for walk-in closet should be at least 2100 x 3000 mm (7' x 10' ft.).
It is preferred that you have a minimum of 9 sq m (100 sq ft), as it allows for three walls with storage options and a sitting area in the middle. For a smaller walk-in closet, you can have a minimum area of 2.25 sq m (25 sq ft). [2] [5]
The layout of a walk-in closet, depending on its shape, can be:
Linear 2. L Shaped 3. U-shaped
Single-Sided Walk-in Closet: The smallest and most common design of a walk-in closet, the storage is on the opposite wall of the entrance, and there is some clearance to access it.
Double-sided walk-in closet: As the name indicates, it has storage options on both walls, and at the center there is a pathway to changing clothes and accessing the storage. It can be designed for small or larger closets.
Island walk-in closet: It is just like a double-sided walk-in closet, and it comes with an island at the center. Storage can be designed on all three sides of the walls, or you can dedicate a space for a dresser on one wall. This kind of closet requires a large amount of space, but it gives off the feel of a luxury product.
Wrap around the walk-in closet: This design maximizes storage capacity by placing storage units on all three walls. It can range in size from medium to large. [4]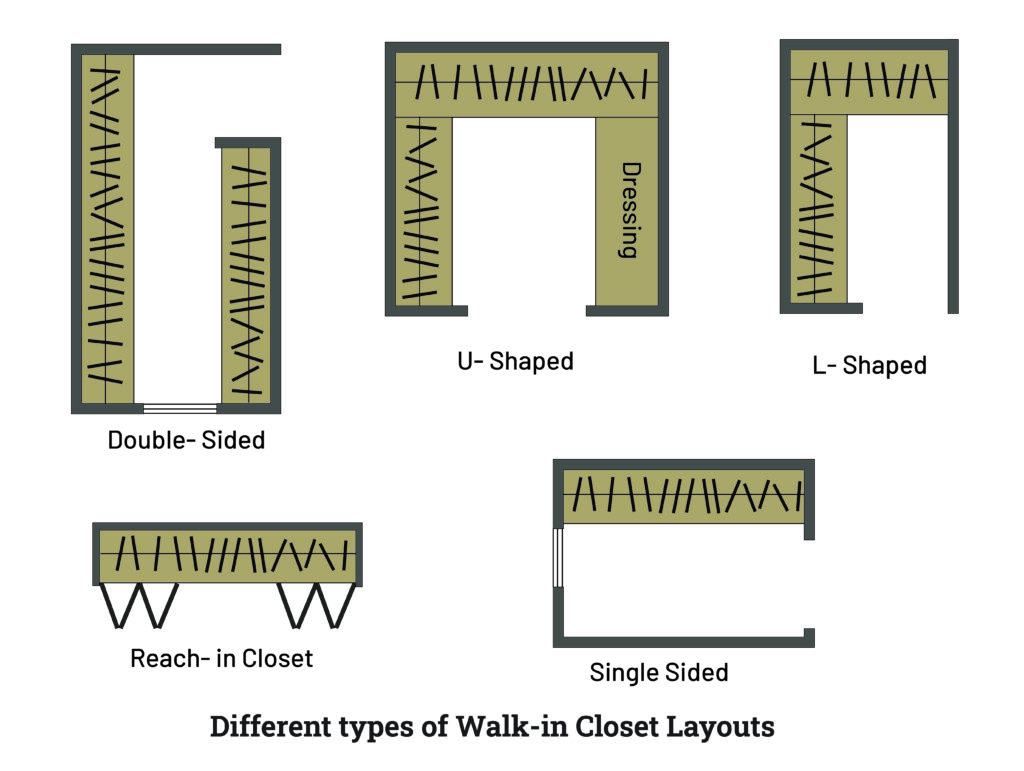 Design Parameters for Walk-in closet
Selection of the layout
Selecting the best layout for your walk-in closet is very necessary. As it enhances your available space, storage options, good circulation, easy access to clothing and other accessories, and your personal or client preferences. Then you can opt for any of these layouts: single wall, double wall, U-shaped, or l-shaped configurations.
Managing the small space: try sliding doors to the walk-in closet and adding mirrors to the shutter to create the illusion of a larger space.
As a thumb rule, the dimensions of walk-in closet can be considered for a space of 1200 mm (4 ft.), we can design a layout that has the option of storage on one wall. In a space of 1800 mm (6 ft.), we can design storage options on all three walls, and in a space of 3000 mm (10 ft.), we can place an island at the center. [4] [2]
Height of the Closets
A walk-in closet can be designed with three height options if it meets your storage and space demands.
A standard closet height comes in at 2100 mm (7 ft.) and 2400 mm (8 ft.).
You can also design a full-length closet that is 3000 mm (10 ft.), but it requires additional support to access it. As a human hand can comfortably access things up to a height of 2100 mm (7 ft.),
This kind of height can also be risky for someone while accessing it. It increases the risk of things falling on the user and can also be difficult for someone to access comfortably. [2] [5]
Ideal Vertical Dimensions and spaces.
For a classic design and storage option, closets should have some essential spaces (vertically or horizontally), according to the dimensions.
A closet should have drawers, shelves, racks, hanging space, compartments, and lockers.
External
A closet should have a depth of 600 mm (24 inches) or can be designed with a minimum depth of 500 mm (20 inches).
A shutter standard width is 600 mm (24 inches) but 525 mm (21 inches) or below is appreciated. Going above it can decrease the strength of the shutter and lead to several damages to the shutter.
A skirting of 100 mm (4 inches) or 75 mm (3 inches) should be there at the bottom of the closet to protect the edges and save them from water or any other external agents.
Internal
1650 to 1800 mm (66 to 72 inches) of high space for hanging coats, long dresses, suits, gowns, etc. This much vertical height prevents them from touching the floor and creasing.
1000 to 1200 mm (40 to 48 inches) of high space for hanging short jackets, pants, shirts, skirts, sarees, etc.
50 mm (2 inches) of clearance should be given between the hanging rod and ply for easy access.
A drawer of 150 to 200 mm (6 to 8 inches) for underwear, t-shirts, etc.
A drawer of 200 to 300 (8 to 12 inches) for bulky sweaters and other accessories
A locker of 300 to 350 (12 to 14 inches) for storing valuables
Open shelves of 300 to 500 (12 to 20 inches) for storing long footwear, bulky clothing, etc.
You should not design a drawer above the eye level of a human, as it is not comfortable to access and reach.
The position of shelves and hangers should be in such a way that one does not have to reach for or bend too much for frequently used items. [4] [5]
Clearance inside walk-in closet
A good circulation and easy-to-access design enhance the beauty of the spaces.
A single-sided walk-in closet needs, a clearance space of 900 mm (36 inches) is required.
For a double-sided walk-in closet, a clearance space of 1200 mm (48 inches) is required.
For an island walk-in closet, a clearance space of 1050 mm (42 inches) is required from all sides.
A minimum clearance of 900 mm (36 inches) is required below; this is not appropriate for walk-in closets. [4] [2]
How to manage corners or edges
Managing corners while designing furniture or anything else is a typical job, as it creates some situations and difficulties for the designers. But it can be managed with some great ideas and unique solutions.
We can design corner shelves, curved hanging rods, pull-out storage, rotating storage, curved shelves, and hexagonal corner shelves. These unique solutions can enhance your storage options, and they also look good in your space.
For more standard dimensions of wardrobe fixtures and walk-in closet click here (You can also download these CAD Blocks, FOR FREE):-
To know about the standard dimensions of walk-in closet, cabinets, shelves, and other equipment, you should refer to the Neufert, Timesavers, and other standard books, or I would prefer going with the booklets or brochures of the companies involved in designing or making those types of equipment.
Ergonomics
Dimensions are a very important part of the design process. Going with standard dimensions creates an ideal and functional space. Below are some images that show the standard dimensions involved for walk-in closet that should be followed. All the dimensions listed below for walk-in closet are in mm. (Source: Neufert, Timesavers, Metric Handbook, etc.)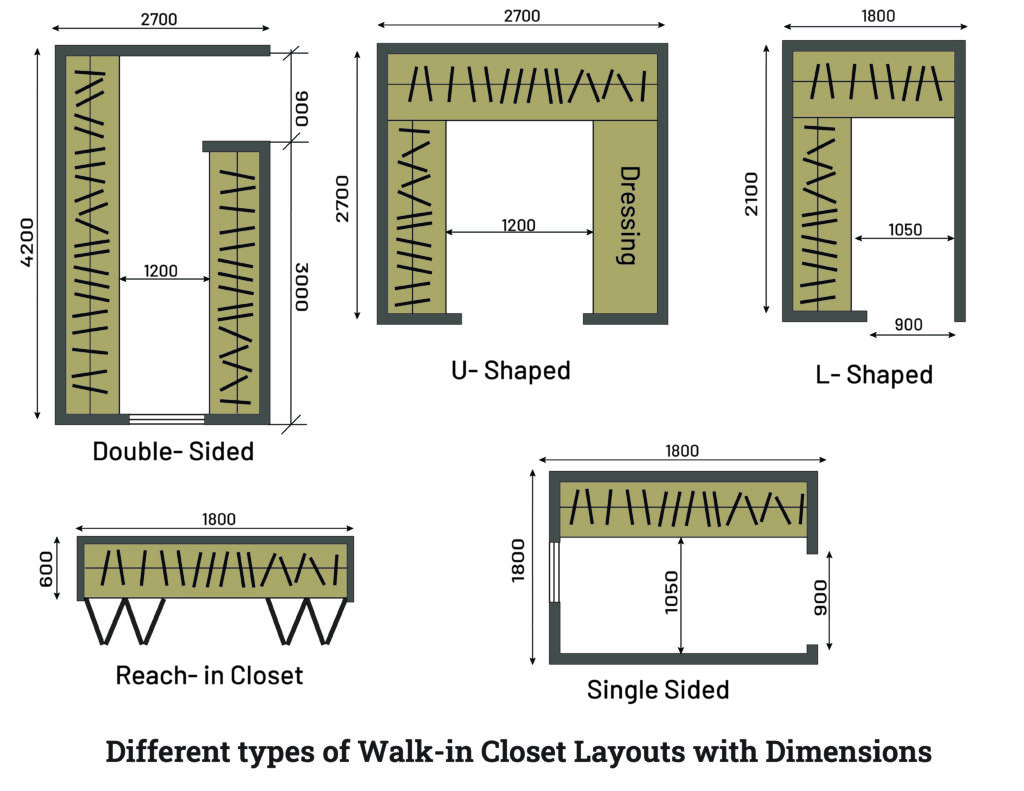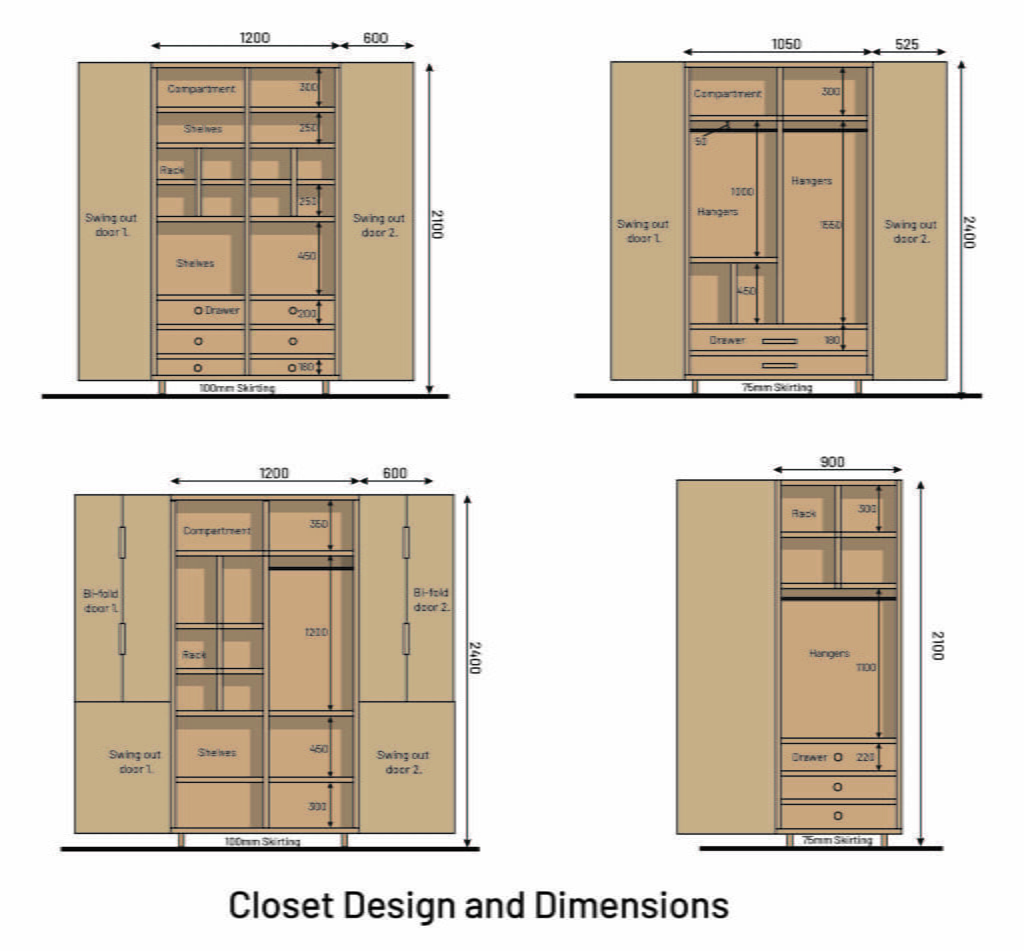 Avoid mistakes while designing the Walk-in Closet
Poor circulation
Considering circulation while designing any layout is a very good thing. It makes good flow inside the space without any disturbances. A minimum of 900 mm (36 inches) for one side and 1200 mm (48 inches) of clearance space should be designed for better circulation.
Doesn't plan well for the inside design
Designing the inside of the closet is necessary. Because a good design can easily organize things inside and make it easier to find accessories. Dedicate a separate rack or drawer for footwear. Otherwise, it will take no time to cover your entire floor with all sorts of footwear.
Installing the wrong size of shutters and closets
A closet depth of 600 mm (24 inches) or a minimum of 500 mm (20 inches) is appreciated below or above; this is not recommended. A shutter of width 525 mm (21 inches) is appreciated below ; this is not recommended. Adding mirrors to the closets makes the space feel bigger.
Arrangement of the walk-in closet
A walk-in closet can be designed wherever you want to in your bedroom follow the dimensions for it. And just take care of natural ventilation and light. It should not disturb these important things. While designing the closet attached to the toilet or bathroom. Place the walk-in closet before the bathroom, as it provides good flow and makes a good arrangement.
*Note: The dimensions written in both mm and inches are individual, not converted.
A Question from the Readers
What do you think which one has good walk-in closet design? Comment your answers below…