What is an arcade in Architecture?
Lexicographers describe an arcade in architecture as a series of connected arches that are used to hold the load of a roof, a beam, and a ceiling. This creates a covered area beneath the roof that is used as a gallery, corridor, or walkway. [1]
An arcade is a defined route with a series of consecutive arches on either side, supported by a colonnade of columns or piers. The arches can be either rounded or pointed, and they can be of different sizes and shapes. Exterior arcades are intended to offer pedestrians a protected path. Arcades not only provide a safe passage, but they also aid in the circulation of cool air within the building. An arcade can exist on the outside of the building as a semi-enclosed space or on the inside. Arcades can be designed in various architectural styles, from classical to Gothic, and they can be used for different purposes.
The arcade in architecture can be found in the interior, in the lowest section of the nave wall, supporting the triforium and clerestory in a cathedral, or on the outside, where it is generally part of the walks that encircle the courtyard and cloisters.
In simple words, an arcade is a structure in buildings that has a series of arches supported by columns and piers.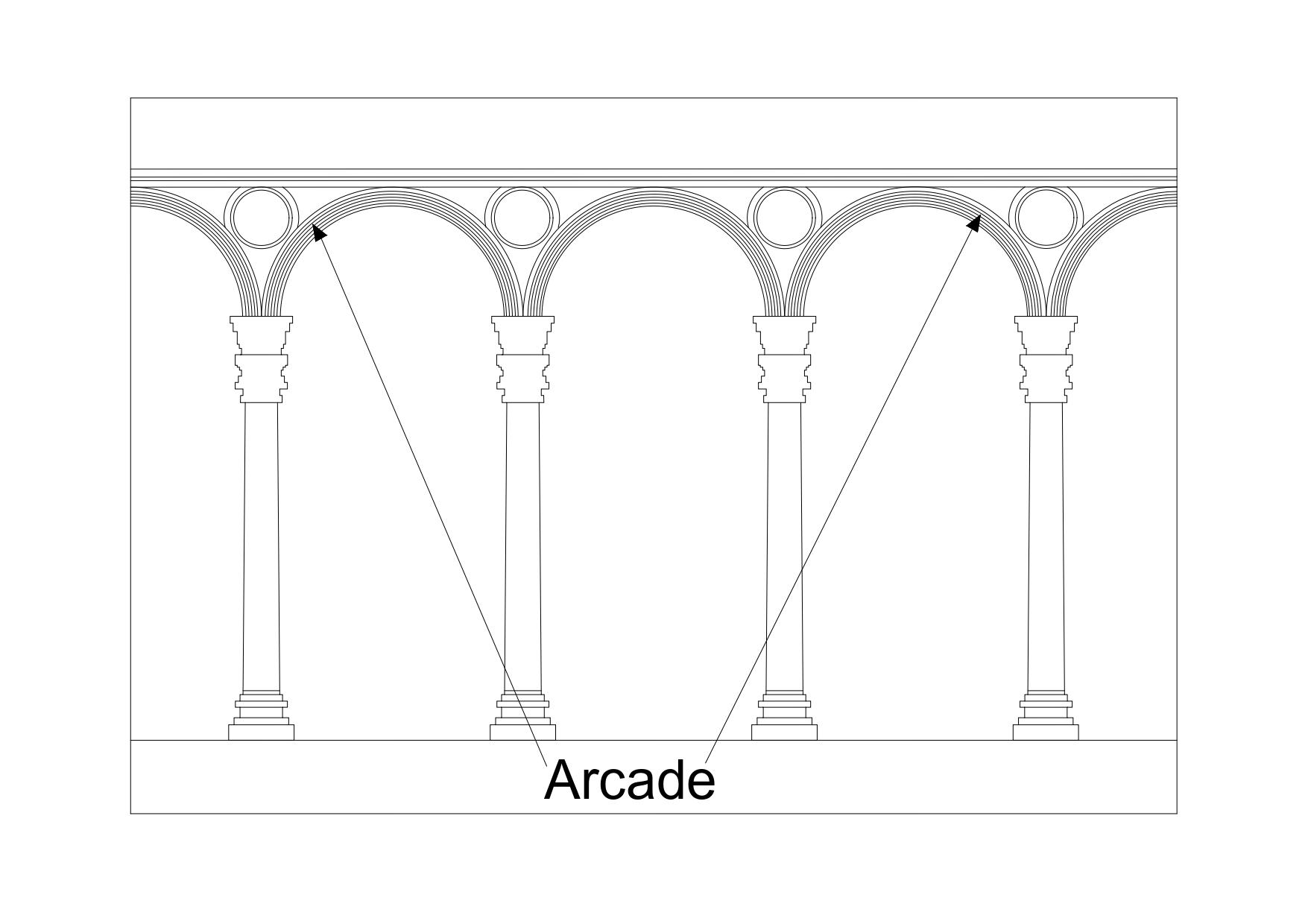 History of Arcade in Architecture
Ancient aqueducts have evidence of the early use of arcades. It has been used in architecture for many centuries and can be seen in several historical buildings throughout the globe. The Romans later adapted this pattern and used it to construct large wall surfaces. The Colosseum is the best example of this architectural type, with 80 arcaded openings on each of its three floors. Apart from the Colosseum in Rome, it has been used in the great Mosque of Cordoba in Spain.
This architectural form was used as an ornamental element in many Gothic churches to divide the nave wall into three different parts: the arcade at the floor level, the triforium above, and the clerestory at the top. It was also used to frame and design the sculptures on the facade (examples of it can be seen in Amiens Cathedral, where Excellency was put into it). [2]
In United States of America
During the late 17th century, architecture inspired by Palladian was spreading throughout the continental regions of Europe, England, and the United States. It became popular in various forms, such as the book pattern and others that featured arcade forms.
The Capitol in Williamsburg, Virginia, uses a series of arcades to link the two different wings of the building, which was demonstrated as a model structure for different public buildings in the 18th century. In the early 19th century, arcades were also seen in campus and university designs, like Union College in Schenectady, New York, designed by French architect Joseph Jacques Ramee, and the University of Virginia, where American architect Thomas Jefferson worked. These two architects used arcades extensively in their designs.
The arcade design on these campuses created enclosed and common areas for students to sit and relax while enjoying a beautiful view of their surroundings. Various important and private buildings like Mount Vernon, Peacefield, and the White House had a series of arcades that looked similar to Palladian designs and became an important element for various builders at that time. The arcades that they built are still standing in good condition today. [1]
Use of arcades
The arcades have been used as covered passageways since Roman times. Medieval cloisters also feature arcades, and most of the mosques from the Islamic period include arcaded courtyards. Different shops and many buildings have arcades used in Renaissance towns. Middle Eastern bazaars are frequently arcaded rows of stores, and the design of modern enclosed or partially enclosed shopping centers has made the use of the name, if not the original form, ubiquitous in the United States. [2]
Styles of Arcade in Architecture
Roman Arcade
Blind Arcade
Roman Arcade:- A Roman arcade is an arcade that has almost flat columns or pilasters attached to piers carrying an entablature.[2] You can see this kind of arcade on the Colosseum (Rome, Italy)
Blind Arcade:- A blind arcade, also known as a blank arcade, is an arcade that has no actual openings and is not freestanding; it is just added to the wall as an ornamental architectural element and doesn't transfer any structural load (no load-bearing function). It is provided at the entrance, hallways, walls, etc.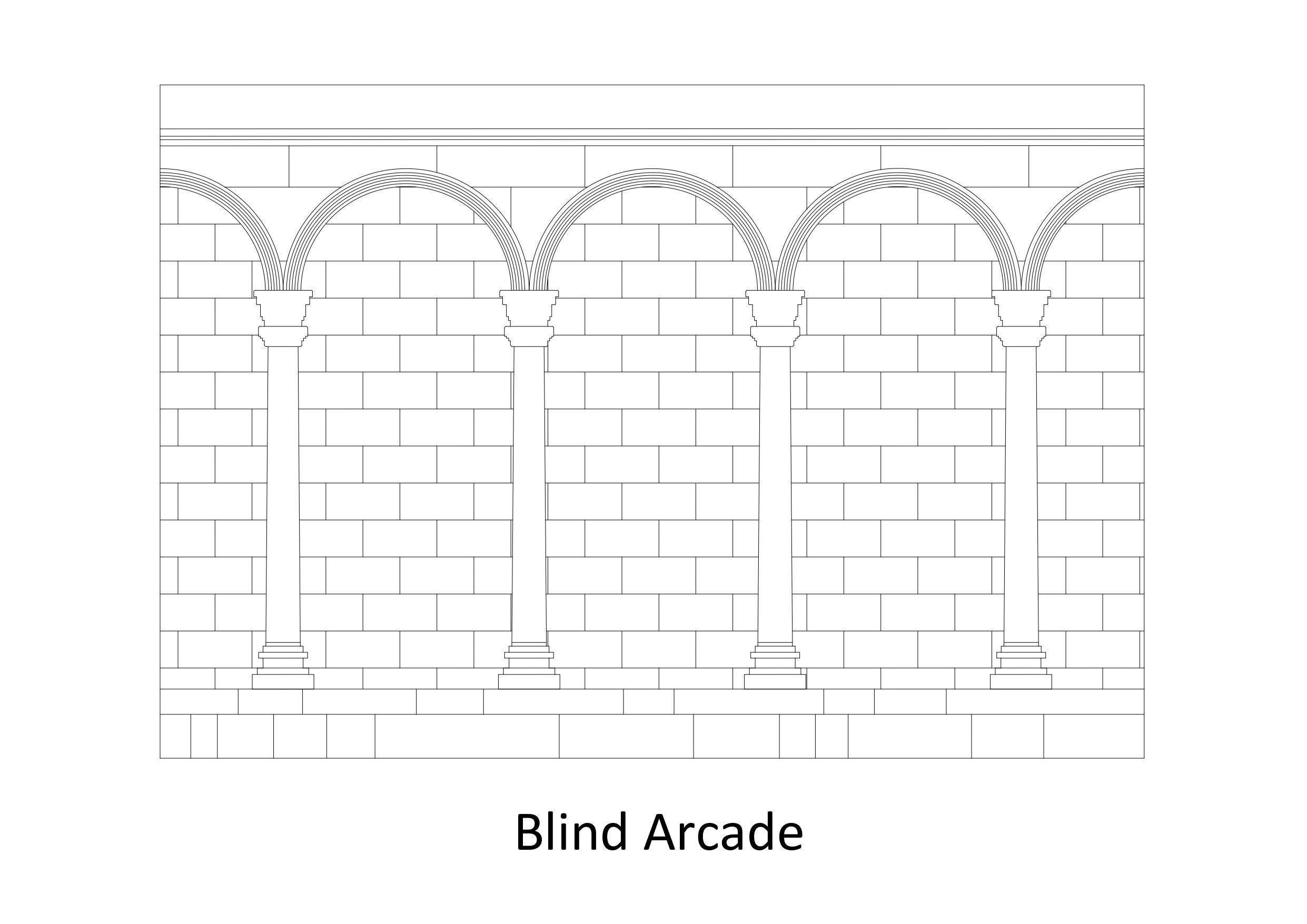 Famous arcade-inspired architectural constructions include:
Mosque-Cathedral of Córdoba, Spain
Mission San Fernando Rey de España, United States.
Great Mosque of Kairouan, Tunisial
Monasterio de Nuestra Señora de Rueda, Spain.
Sanctuary of the Madonna di San Luca, Italy.
Uses of Arcade in Modern Buildings
Arcades can be used to provide openings for surrounding views, natural light, and air in a building.
Arcades are used to visually link the house to its surroundings.
Arcades are also used as viewing platforms, like porches, pavilions, and other open structures.
Arcades can also be designed into porches or verandas.
Sometimes arcades also work as piazzas.
Arcades can be associated with public gardens, terrace gardens, and others.
One common use of arcades in architecture is to provide a covered walkway or passage. In this case, the arches create a covered space that protects people from the weather while they walk.
Arcades can also be used to connect different parts of a building or to create a transition between indoor and outdoor spaces.
Another use of arcades in architecture is as a decorative element. The arches can be purely ornamental and not have any structural purpose.
It can be used to create a rhythm or pattern in a building's facade or to add a sense of depth or texture.
Advantages and Disadvantages of Arcade in Architecture
Advantages
Weather Protection: Arcades provide a covered walkway or passage, protecting people from rain, snow, or direct sunlight.
Aesthetic Appeal: Arcades can enhance the visual appeal of a building by providing a rhythmic pattern or adding depth and texture to the facade.
Structural Support: Arcades can also provide structural support to a building. The arches and columns work together to distribute the weight of the building, making it more stable.
Connection Between Spaces: Arcades can be used to connect different parts of a building or to create a transition between indoor and outdoor spaces
Versatility: Arcades can be used for various purposes, including as a covered walkway, a decorative element, or structural support.
Disadvantages
Cost: Arcades can be expensive to build, especially if they are made with high-quality materials or require specialized labor.
Maintenance: Arcades can require regular maintenance, such as cleaning, repairs, and painting.
Space: Arcades take up space, which may be limited in some building projects.
What's the difference between an arcade and a colonnade?
S.
No.
Arcade
Colonnade
1
An arcade consists of a series of arches supported by columns or piers.
A colonnade consists of a series of columns that support horizontal loads like a beam, a lintel, and a roof.
2
An arcade can be of different shapes and sizes; it can have rounded or pointed arches as well.
A colonnade can also be constructed in different shapes and sizes. It doesn't require arches for additional support.
3
Usually, arcades are found on the ground level of a building and are used to create covered walkways or passages.
Colonnades are typically found on upper levels, and they are also used to create covered spaces.
4
It is used as an ornamental or decorative element.
It is also used as an ornamental or decorative element.
5
The arcade offers more structural load as compared to the colonnade.
Provide less structural support than arcades.