What is Blobitecture in Architecture?
Blobitecture also known as bolbism and blobismus is a term that originated from post-modern architectural style. Blobitecture is characterized by amorphous, blob-like shapes, forms, and curved and rounded building shapes. It appears to have an organic form, that is soft and free-flowing. Perhaps it is inspired by advancements in digital technology like digital graphics, 2D and 3D shapes, organic forms, and even the environment; these are also forms of bionic architecture. [4] The term "blob" was first used by the Czech architect Jan Kaplicky while he was talking about the "Blob office building" in 1986 in London. That office building was characterized by its organic, aerodynamic shape, energy-saving solutions, and advanced technology. In 1995, the term "blob architecture" was introduced by American architect Greg Lynn. [1] Finally, the word got printed in 2002, in William Safire's "On Language" column in New York Time Magazine, an article named "Defenestration".
Building designs have typically been constrained by the capabilities of naturally occurring or readily fabricated materials. The spectrum of potential design shapes has significantly expanded with the capacity of contemporary technology to produce totally "manufactured" complex substances with distinctive performance properties. However, it was not until the 1990s, with the widespread use of computer-aided design (CAD), that structures with irregular geometric forms devoid of right angles were feasible.
Role of Computer-aided Software
Architects and furniture designers started experimenting with the "blobby" software to create amazing, new, and unusual forms. [1] Different innovative ideas and complex and unusual shapes were drawn on the software, which was not possible using traditional building methods.
This style is expensive, and historically it has been limited by the performance of materials as it requires custom-made materials that are not easily manufactured or found in nature. They need to be custom-made, and highly skilled craftsmanship is required to build these kinds of shapes and forms. [3] [4] With the advancement and precision of technology, it is now done with proper measures and considerations. Still, despite these challenges, there are many buildings inspired by architectural styles around the world.
This architectural style can only be found in large buildings like concert halls, art museums, airports, and other large public spaces. It is the 21st century's finest architectural style. [4] Mathematics and computer-aided software have a great role in blobitecture.
History of Blobitecture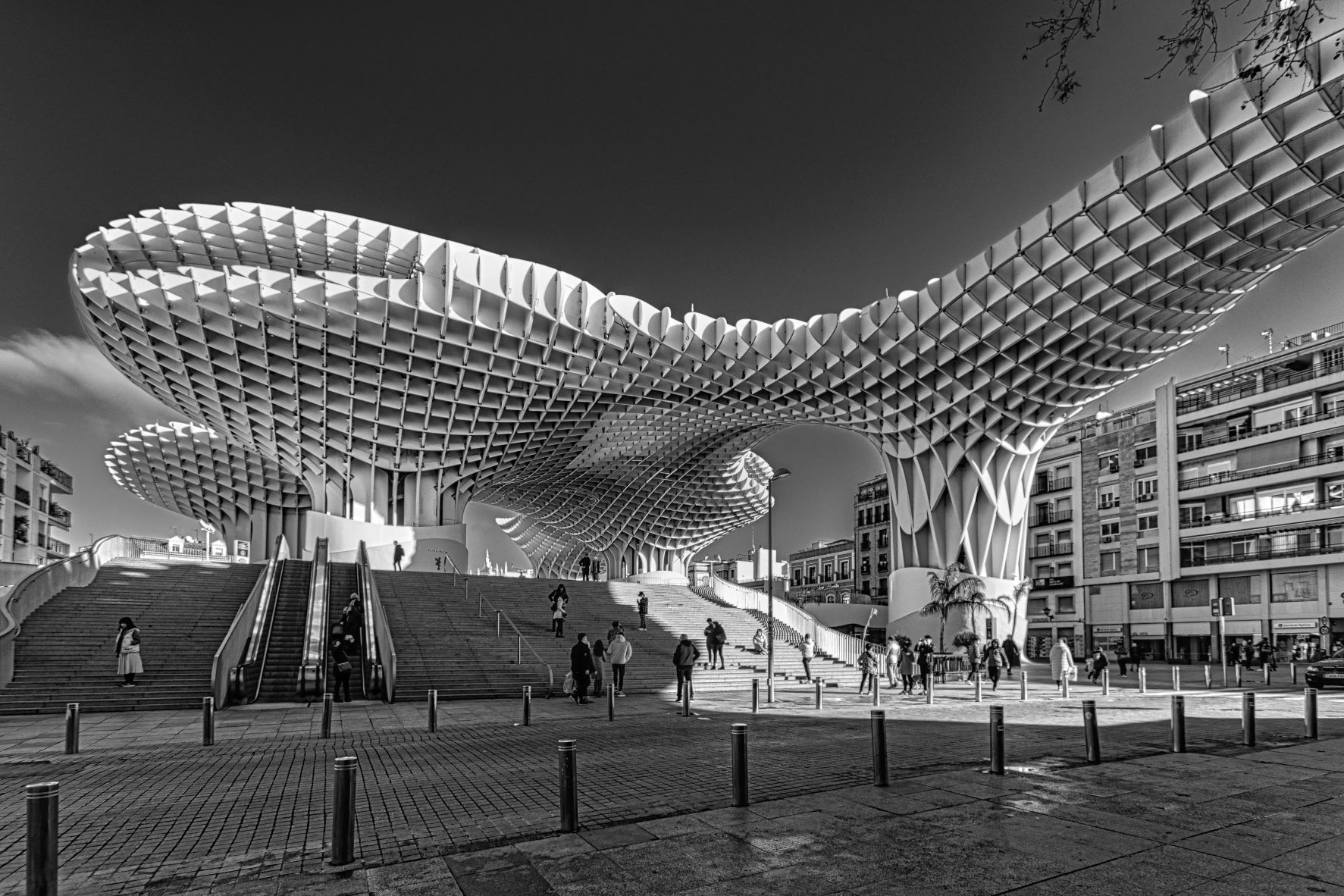 The Freshwater Pavilion was designed by Lars Spuybroek of NOX Architects and constructed by Kas Oosterhuis in Netherlands in 1993. It was the first building to use blobitecture technology. It has a fully computer-based shape made with computer-aided tools and an electronic interactive interior where visitors can change the sound and light. However, it wasn't until 1995 that the concept of blob architecture was made popular. If blobitecture is viewed from the formal aspect and not the technological aspect, it is then believed to have begun with Antoni Gaudi's organic designs in Barcelona. Few critics believed that blob architecture came out of computer software. But others related it to curved or odd-looking buildings such as Frank Gehry's Guggenheim Museum, in Bilbao, Spain.
Blobitecture architects and their philosophy
Many architects adopted this style and used it in their building designs. Peter Eisenman, Norman Foster, Massimiliano Fuksas, Frank Gehry, Zaha Hadid, Patrik Schumacher, and Jan Kaplicky were the architects who supported this style and incorporated it into their designs.
It gave freedom to create structures that imitate the beauty of nature, in which straight lines and right angles are exceptions rather than the rule. It became more pervasive in the contemporary landscape of architectural design. Everyone has to admit how amazing blobitecture in architecture is, even if the observer screams or runs away after seeing it. It is not designed as per the existing skyline of the city; it is designed as the architect wants to design it and create an architectural landmark of that city or area. They wanted it, and they were getting it. This style has proven to be diverse and can be useful for several applications. [5] [6]
Materials used in Blobitecture
Steel and glass are important elements in blob constructions. Solar panels, color-changing plastic blocks, glass panels with integrated led strips, and other new-generation materials were created to meet the needs of the building.
Criticism of blobitecture
The rise of this architectural style was not initially supported or celebrated by many artists, writers, and architectural critics. William Safire criticizes it in the magazine "The New York Times". London's former mayor called the new city hall a "glass testicle". Some other descriptions of blobitecture in architecture describe it as an unseemly animal, a beached whale, and a sluggish fish. [5] For some critics, it became a laughing matter and they suggest that overuse of this style could lead to a homogenization of architectural design.
Future of Blobitecture
Advancements in digital technology, design, and fabrication will make it easier for architects to create complex and organic forms.
It will lead to a shift toward new materials and construction techniques because of its organic forms.
New design methods such as 3d scanners, laser printers, etc. can bring changes to the movement forms. [7]
Examples of Blobitecture in Architecture
Sage Gateshead, Gateshead, United Kingdom
It is a concert and musical education center, designed by the architect Norman Foster and partners. On December 17, 2004, it was opened to the public, and the construction cost is estimated to be approx. 70 million pounds. [8]
Selfridges Building, Birmingham, United Kingdom
It is part of the Bullring Shopping Centre and houses Selfridges Department Store, designed by the architects Jan Kaplicky and Amanda Levete. The construction started in 1999 and was completed in September 2003. The cost is estimated to be approximately 60 million pounds. [9]
Metropol Parasol, Seville, Spain
It is a wooden structure that is inspired by both the ficus trees and the Cathedral of Seville and was designed by the architect Jürgen Mayer. The construction started in 2005 and was completed in April 2003. The cost of the structure is estimated to be approximately 50 million euros. [2] [10]
Museum of Pop Culture, Seattle, Washington, USA
It is a non-profit museum founded by Microsoft co-founder Paul Allen in 2000, and designed by the architect Frank O. Gehry. On June 18, 2004, it was opened to the public, and the construction cost is estimated to be approximately 90 million dollars. [11] [12]
Kunsthaus Graz, Graz, Austria
It is an exhibition space, and the design was intended to be provocative and innovative. Designed by Spacelab Cook-Fournier as a partnership between the architects Colin Fournier and Sir Peter Cook. The building was built between 2001 and 2003. [2] [13]
These are some examples of blobitecture style in architecture, there are several more…