Introduction of Auditorium
An auditorium is a large, enclosed room built to enable an audience to attend live lectures, stage performances, concerts, and other gatherings. It typically features a stage or platform for speakers or performers, seating for the audience, and acoustics designed to enhance the sound quality of the performance or presentation. It is basically a large room or space that is used to accommodate an audience in a building (which can be of any type). All the seats in the auditorium face the stage, where they attend live lectures, performances, seminars, and other occasional functions.
Auditoriums can be found in a variety of settings, such as schools, universities, concert halls, theatres, and conference centers.
Auditorium Design Consideration/Parameter.
This should receive no incoming light except for emergency lighting. The walls and ceilings should be of non-reflecting material in relatively dark colours. The audience should sit within the outer edge of the screen. The viewing angle from the first row of seats to the centre of the picture should not exceed 30°. Up to a 10% floor gradient is permissible, or steps with max. 16 cm risers and aisles of 1.20 m in width. Up to 10 seats may be arranged on each side of the aisle. (Page 222-223 Neufert (Source}).
Auditorium and stage/acting area
Size of the auditorium: the number of people in the audience gives the required floor area. For seated spectators, assume ≥0.5 m2/ spectator. This number results from:
seat width x row spacing
≥0.45 m2 /seat
Add ≥0.5 x ≥0.9 =0.05 /seat
≥0.50 (Total)
Length of the rows of seats per aisle: 10 places , 25 places per aisle if an exit door of 1.2 m width is available at the side per 3 or 4 rows. Exits, escape routes 1.2 m wide per 200 people. 1% of the seats (at least two) must be accessible for wheelchair users, if possible in connection with a seat for an accompanying person.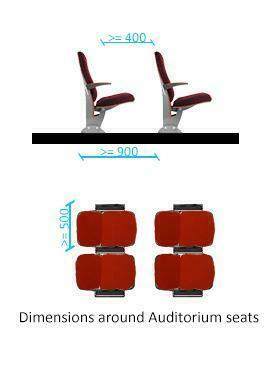 Auditorium volume
This is determined by acoustic requirements (reverberation) p. 221 as follows: playhouse approx. 4-5 m3/spectator; opera house approx. 6-8 m3/spectator. Air volumes must not be less for technical ventilation reasons, to avoid too rapid air changes (draughts).
Proportions of the auditorium
These are derived from the psychological awareness and angle of view of the spectator, or the requirement for a good view from all seats. Options are:
Good view, without moving head, but light eye movements of approx. 30°.
Good view with slight head movements and light eye movements of approx. 60° 0.
Max. awareness angle without head movement approx. 110°, i.e. all actions in the field are 'in view'. Outside this field, there is uncertainty, because 'something' is out of view.
Full head and shoulder movement allows an angle of view of 360° (Page 211 Neufert (Source}).
Rehearsal rooms
Every theatre needs at least one rehearsal stage to back up the main stage. For example, in a small theatre: the main stage has the scenery of the current play and the rehearsals take place on the rehearsal stage. The dimensions should correspond to the main stage. Typical floor plan of the rehearsal stage of a traditional theatre. Multi-purpose theatres and opera houses also require an orchestra rehearsal room, chorus rehearsal room, soloist rehearsal room and ballet room.
Experimental theatres
These also require, in reduced form, staff and rehearsal rooms, workshops and stores, if in continual operation.
Technical rooms
Rooms for transformer, medium- and low-voltage switchgear, emergency power supply batteries, air conditioning and ventilation plant, and water supply (rainwater system), according to local conditions and specialist design work.
Public rooms
The classical Italian opera had only narrow entrances and stairs, with no actual foyer. This makes the generous public rooms at the Grand Opera in Paris particularly impressive. The Vienna theatre fire in 1881 led to extensive changes: the audience is now required to have enclosed emergency stairs for each tier. This requirement continues in principle today (Public Assembly Regulations).
In the traditional theatre, the foyers are split into: the actual foyer (lobby), restaurant (buffet), and smoker's foyer. The area of the foyers is 0.8-2.0 m2/spectator (more realistic is 0.6-0.8 m2/spectator). The function of the foyer has changed today: it must include provisions for exhibitions, performances, and regular plays there.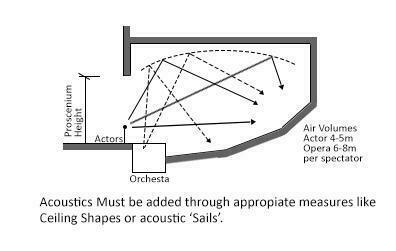 Cloakrooms
Per 100 visitors: 4 running m of rail. Sometimes lockers are also provided: one locker for every four visitors. The foyer is also a waiting and queuing room and has the usual extent of associated WCs: one WC/100 people. 1/3 gents, 2/3 ladies; min. one gents' and one ladies' WC. A total number of sanitary facilities: – p 216. Entrance hall (lobby) with day and evening cash desks, which should be opposite each other.
To read more about auditorium design click here to read an assignment on auditorium design.