What is amphitheatre in architecture?
An amphitheatre is a type of building which is popularly used in Greek and Roman architecture. Amphitheatres are typically designed with a circular floor plan where the base acts as a staging area and seating is provided radially (changes according to the shape of the amphitheatre) around the stage moving upwards. Amphitheatres are typically used for plays, sporting tournaments, performances and other events.
In simple words an amphitheatre is an open-air venue which is used for entertainment, performances, and sports.
Types of Amphitheatre
Roman Amphitheatres
Modern Amphitheatres
Natural Amphitheatres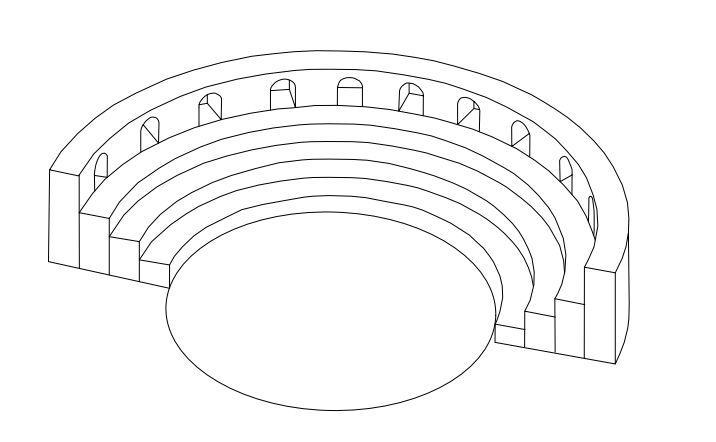 Roman amphitheatres
Ancient Roman amphitheatres were major public venues, circular or oval in plan, with perimeter seating tiers(surrounding the central performance area). Their typical shape, functions and name distinguish them from Roman theatres, which are more or less semicircular; from the circuses whose much longer circuits were designed mainly for horse or chariot racing events; and from the smaller stadia, which were primarily designed for athletics and footraces.
The earliest Roman amphitheatres date from the middle of the first century BCE, but most were built under Imperial rule, from the Augustan period onwards. Imperial amphitheatres were built throughout the Roman empire; the largest could accommodate 40,000–60,000 spectators. A common feature of their amphitheatre was, multi-storeyed with arcaded facades and marble, stucco was used for the decoration. Their materials were mined or recycled. Some were razed, and others were converted into fortifications.
Ancient Rome had range of venues for public entertainment, which are separated into four types (according to modern terminology):
Theatre was used for dramatic, music and dance.
Stadium served for athletic competitions.
Amphitheater for blood games.
Circus or Hippodrome for horse and chariot races.
Modern amphitheatres
In modern usage, an amphitheatre is a circular, semicircular or curved, with sloping seating, which includes theatre-style stages (spectator seating on only one side), had acoustically vibrant performance space, and can be located indoor or outdoor. These types of amphitheatres are used to serve or host outdoor local community performances. Notable modern amphitheatres include the Shoreline Amphitheatre, the Hollywood Bowl and the Aula Magna at Stockholm University.
Natural amphitheatres
A natural amphitheatre is a performance space located in a spot where a steep mountain or a particular rock formation naturally amplifies or echoes sound, making it ideal for musical and theatrical performances. Notable natural amphitheatres include the Drakensberg amphitheatre in South Africa, Slane Castle in Ireland, the Supernatural Amphitheatre in Australia, and the Red Rocks and Gorge amphitheatres in the western United States.
Design Parameters of Amphitheatre
The suggested location of an amphitheater would be on a gradual slope with a beautiful background behind it.
It should be away from the commercial and industrial areas. Mostly outside of town, away from traffic and other distractions.
A minimum of 1 acre of land should be available for the construction of an open-air amphitheater.
It should not be isolated from the camping structures and other program areas.
The parking should be near the amphitheatre, preferably within walking distance. [1]
Amphitheatre Design Standards
Stage Recommendations for amphitheatre design:
Minimum 7.2 m x 3.6 m (for seating up to 240 people)
A minimum of 0.4 m above grade is required.
Handrails should be provided along the front and sides of the stage.
Materials that are easily accessible: concrete, stone, and wood
Seating Recommendations for amphitheatre:
The first row of seating should be 6 meters away from the stage's edge.
The minimum spacing between two rows should be 1.2 m.
The distance from the grade to the top of the bench is 3.0.4m.
The aisle measures 4.1.5 m to 1.8 m wide.
Benches should have a height variation of 0.45 m.
Sound Recommendations for amphitheatre:
Construct a sound/AV room with acoustic materials.
Install a conduit between the sound room and the stage.
Lighting/Electrical Recommendations for amphitheatre:
The aisle light should be of low height.
Design directional stage lighting
Can you design footlights?
Fire Ring Recommendations for amphitheatre:
Use non-combustible materials.
A minimum of one fire ring should be there.
Trees should not be present within a 6 m radius.
Drainage Recommendations for amphitheatre:
Prefer surface drainage.
Catch basins, French drains, and area drains should be constructed around the site.
Ancillary Facilities for amphitheatre
Separate restrooms for males and females
Adequate seating layout [1]