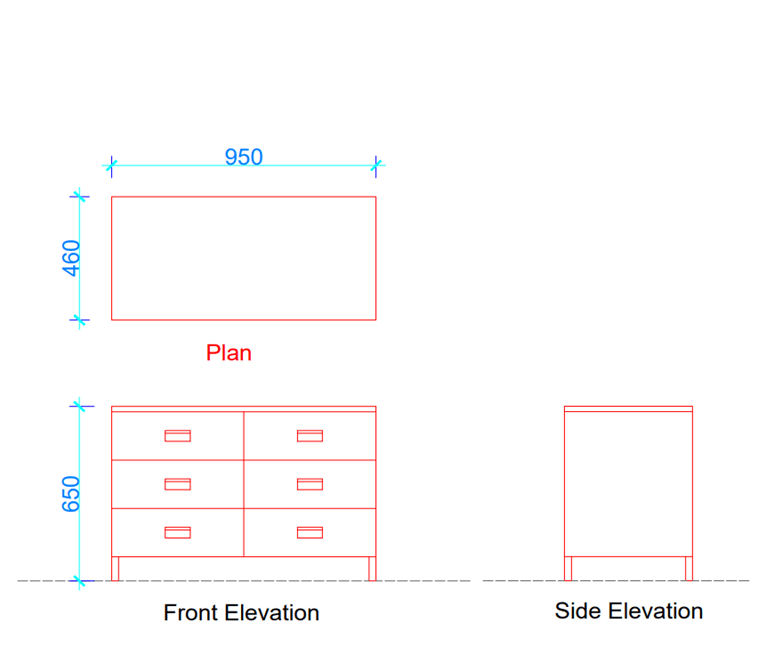 Related Questions?
Q1. What are the dimensions of a Side Cupboard?
The dimensions of a side cupboard are Length: 950 mm, Breadth: 460 mm, and Height:- 650 mm.
Q2.  Use of Sideboard   
 The sideboard is used for storing things. This type of Sideboard can be used in the living room(to store stuff, shoes, etc), in the kitchen (to store cups, etc.), in the bedroom (to store clothes, linens, shoes, etc.) in entrance lobby and in Dinning area.
Q3.  Favorable distance from the wall?
This Furniture should be placed around 30-50 mm (3-5 cm) from the edge of the wall and should have at least 600 mm (60 cm) of functional space in the front.
Q4. Difference Between Sideboard and cupboard
The sideboard is a piece of furniture that has drawers and shelves, used in the dining area for linen and tableware (serving food) whereas a Cupboard is a piece of enclosed storage furniture which have usually shelves and doors, used to store food, crockery, and other kitchen stuffs.
Highlights
Dimensions:
Length  :- 950 mm
Breadth :- 460 mm
Height :- 650 mm
Materials:
Solid Wood, Particleboard, Hard Plywood, MDF (Medium Density Fibre), Stainless Steel (For Drawer)
Download: