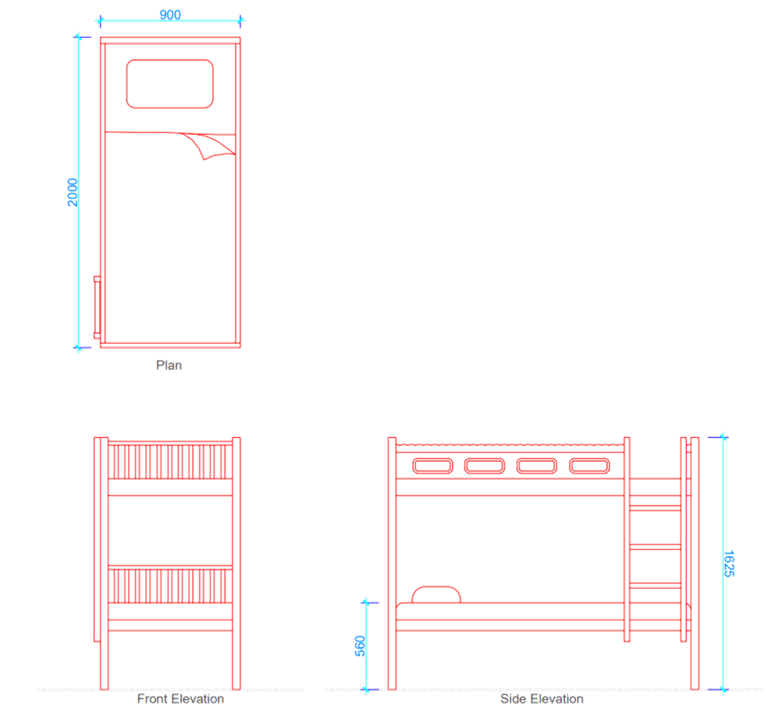 Related Questions?
Q1. What are the dimensions of a Bunk Bed?
The dimensions of a bunk bed are Length: 900 mm, Breadth: 2000 mm, and height: 1625 mm. The height of the mattress from the ground should be 560 mm.
Q2. What is Bunk Bed?
A bund bed is a type of bed in which one bed is stacked on top of another by frames and allows two people two sleep on it at once. These beds are supported by poles or pillars and are connected with ladders or steps.
Q3. Minimum riser for the steps?
The riser should be between 250 to 300mm (25 to 30 cm), this can also be designed as to use a storage option.
Q4. Why do we use bunk bed?
Bunk bed are used because it occupies less area and have options for sleeping. It is available in two option, first bed with study table set and bed with another bed. These type of bed are used in children's bedroom, Hostel, Prisons, dormitories, ships etc.
Highlights
Dimensions:
Length :- 900 mm
Breadth :- 2000 mm
Height (Total) :- 1625 mm
Height (Sleeping):- 560 mm
Materials:
Hardwood, Metal, [Acrylic, Cotton, Nylon for bedsheet and mattress]
Download: