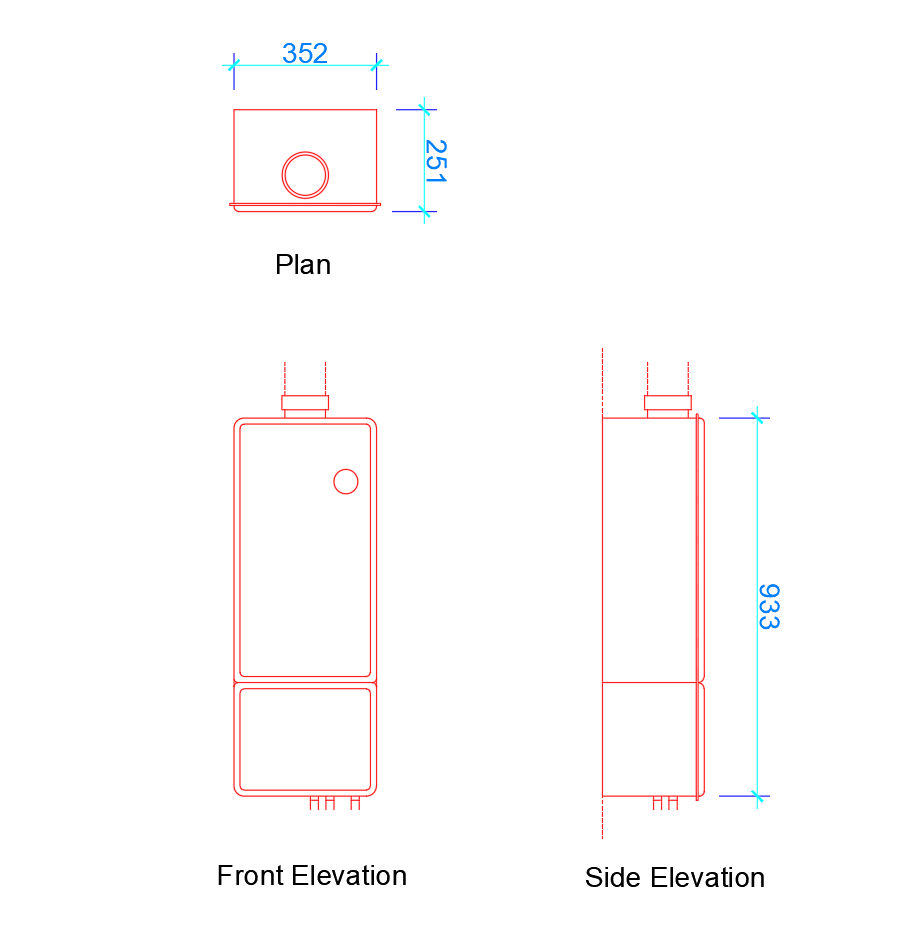 Related Questions?
Q1. What are the dimensions of a Geyser?
The dimensions of a Geyser are length: 352 mm, Breadth: 251 mm, and height (depth): 933 mm. The height at which the geyser is placed is 1800 mm.
Q2. What should be the geyser height from the floor?
The standard height of the geyser from the ground should be 1800 mm. It is advisable to install the geyser at this height to maintain adequate pressure of water.
Q3. Distance of the geyser from the wall?
The distance of the geyser from the center to the wall should be 350 mm. Having this much space makes it easy to maintain the geyser if required.
Q4. Where to place a geyser in a toilet?
The geysers are available in different shapes and sizes. The preferred location of the geyser should be near the shower area or above the water closet, as it allows for an easy flow of hot water to the taps. The location also depends on the connection of the geyser to the tank.
Q5. How to install a geyser in the bathroom?
To ensure appropriate installation and safety, installing a geyser in the bathroom requires considerable consideration. Here are some step-by-step instructions:
First : Choose a suitable location.
Second : Shut off utilities and drain water lines.
Third : Prepare the installation area.
Fourth : Install the water heater.
Fifth : Insulate pipes (optional)
Sixth : Test the installation.
Last : Final checks
Working with electrical and plumbing systems might be risky if you are inexperienced. It is better to seek advice or hire a professional plumber or electrician.
To read the detailed design and interior guide for the bathroom or toilet, click here…
Highlights
Dimensions:
Length :- 352 mm
Breadth :- 251 mm
Height (Depth) :- 933 mm
Weight :- 36.3 kg
Type:
Tankless Gas Water Heater
Download: