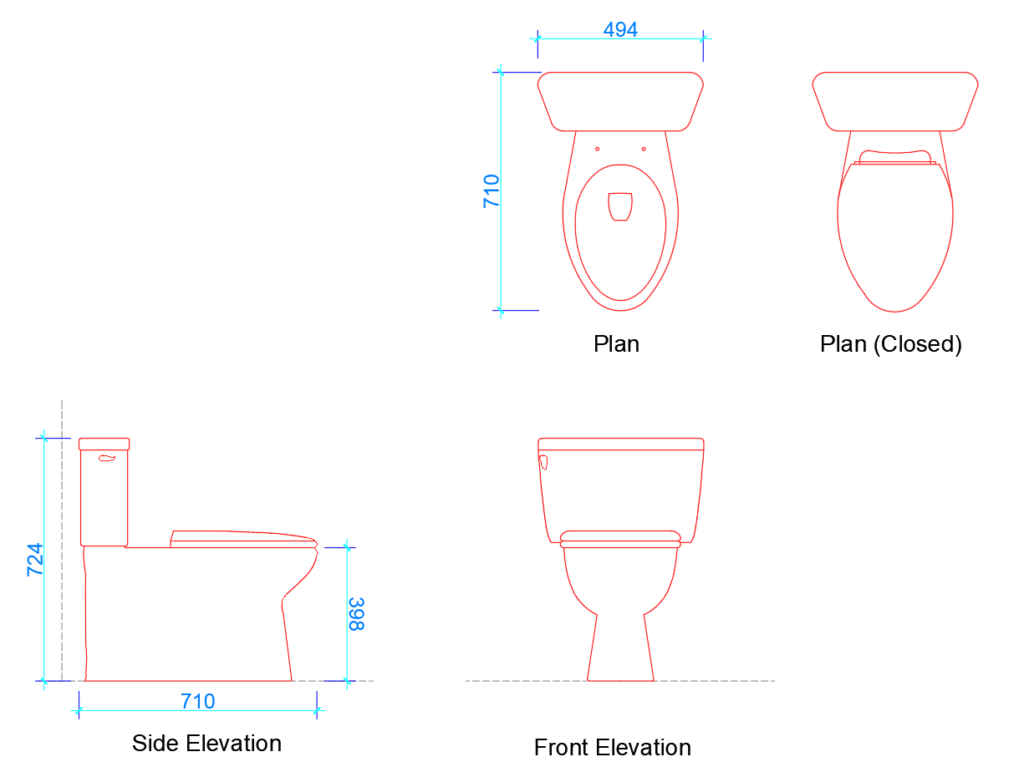 Related Questions?
Q1. What are the dimensions of a Two-piece toilet (WC)?
The dimensions of a Two-piece toilet (WC) are length: 494 mm, breadth: 710 mm, and height (total): 724 mm. The height of the toilet seat is 398 mm.
Q2. What is the standard seat height of the toilet?
The standard seat height should be 420 mm. On the market, there are several options for different seat heights that are between 380 and 490 mm.
Q3. Distance of the WC (water closet) from the wall?
The distance of the water closet (WC) from the center to the wall should be 450 mm. This much distance is also required from other fixtures like the wash basin, bathtub, bath area, etc.
Q4. How much activity area is required to use the water closet (WC) comfortably?
The activity area in front of the water closet (WC) should be 800 x 650 mm. Then it will be comfortable to use for the users.
Q5. Where to place a WC (water closet) in a toilet?
The WC (water closet) has several options, like wall-hung, floor mounted, and others. The preferable location of the WC should be in a semi-wet area with non-slippery tiles; doing so makes a perfect arrangement inside the bathroom.
To read the detailed design and interior guide for the bathroom or toilet, click here…
Highlights
Dimensions:
Length :- 494 mm
Breadth :- 710 mm
Height (Total) :- 724 mm
Seat Height:- 398 mm
Materials:
Stable Porcelain, Vitreous China, etc.
Download: