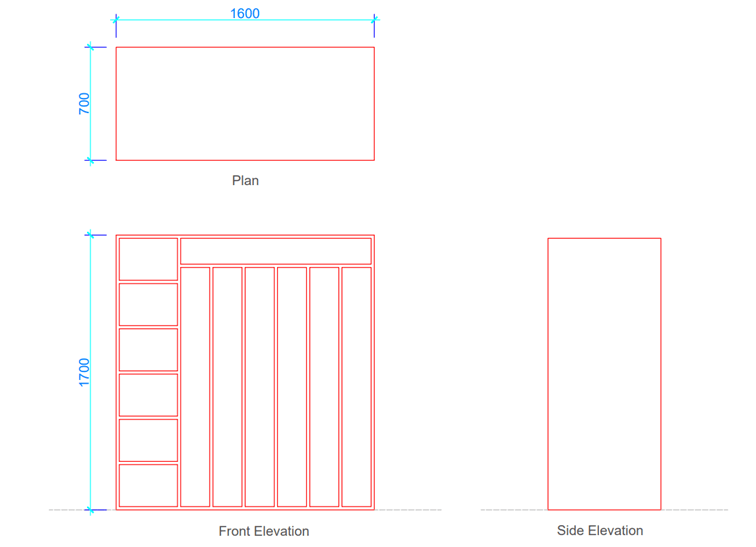 Related Questions?
Q1. Use of Cloakroom Cupboard?
This type of Cupboards are used for storing the kids' mattress, stationery, shoes, and other things of kids and it can be seen in the bedroom or hostel bed area.
Q2. What are the dimensions of a kid's cupboard?
The dimensions of the kid's cupboard are Length:- 1600 mm, Breadth:- 700 mm, and Height:- 1700 mm.
Q3. What is Cloakroom?
A cloakroom also called a coatroom, is a room for people to hang their coats, cloaks, or other outerwear when they enter a building. Cloakrooms are typically found inside large buildings, such as gymnasiums, schools, churches, or meeting halls.
Q4. Is Cloakroom a toilet?
Cloakroom was common in ancient days when people used to wear cloak, it was therefore designed near the main entrance of a house and public buildings. So that people can leave there cloak, garments, bags and other stuffs outside the main house/ building.
Over time people started neglecting to wear a cloak, therefore cloakrooms serve no purpose and they started converting them into small toilets and hand basin rooms.
The concept of a cloakroom still exists in large hotels, venues, and conference centers. These still have ''cloakrooms' for guests to leave coats, bags, and anything they don't want to take into the main building. (Cloakrooms were first found in the UK)
Highlights
Dimensions:
Length :- 1600 mm
Breadth :- 700 mm
Height :- 1700 mm
Materials:
Solid Wood, Particleboard, Hard Plywood and others depend on purpose
Download: