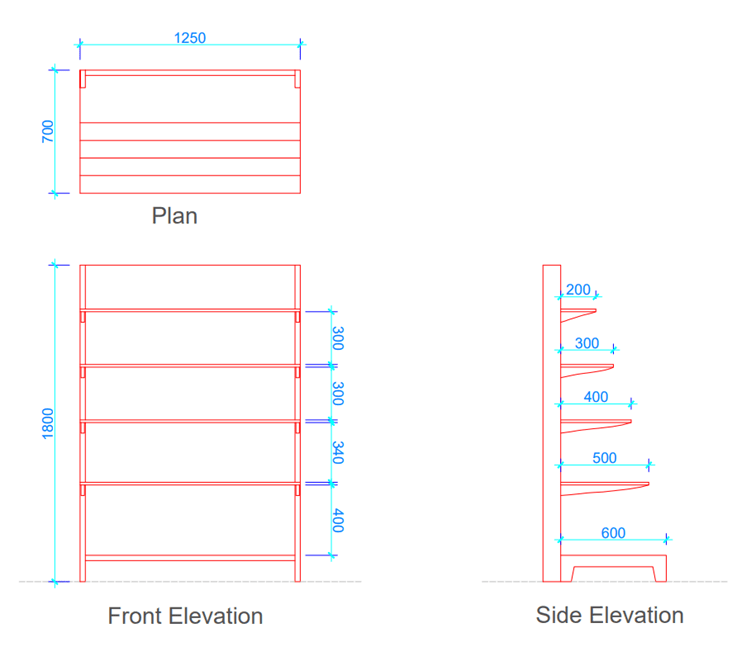 Related Questions
Q1. What are the dimensions of a Wall Shelf unit?
The dimensions of a wall shelf unit are Length: 1250 mm, Breadth: 700 mm, and height: 1800 mm.
Q2.   What is Bookcase?
The bookcase is a piece of furniture designed for the storage or display of books or other printed material. It has horizontal shelves and can be used in private, and public areas. It varies in height and can go up to ceiling height.
Q3.  Use of wall shelf unit?   
Wall shelf units are used to store books and other printed documents in the library and commercial buildings.
Q4.  Difference between Bookshelf and Bookcase?
A bookcase is a close-sided unit that encases books and it is designed to sit on the floor.
A bookshelf does not have encased ends and is usually designed to hang on a wall.
Bookcases tend to be more traditional than bookshelves and are often installed as permanent recessed fixtures in a home.
Bookshelves are not usually permanent fixtures. They also tend to be more modern in style.
Highlights
Dimensions:
Length :- 1250 mm
Breadth :- 700 mm
Height :- 1800 mm
Materials:
Solid Wood, Particleboard, Plywood, MDF (Medium Density Fibre), Metal, Glass, etc.
Download: