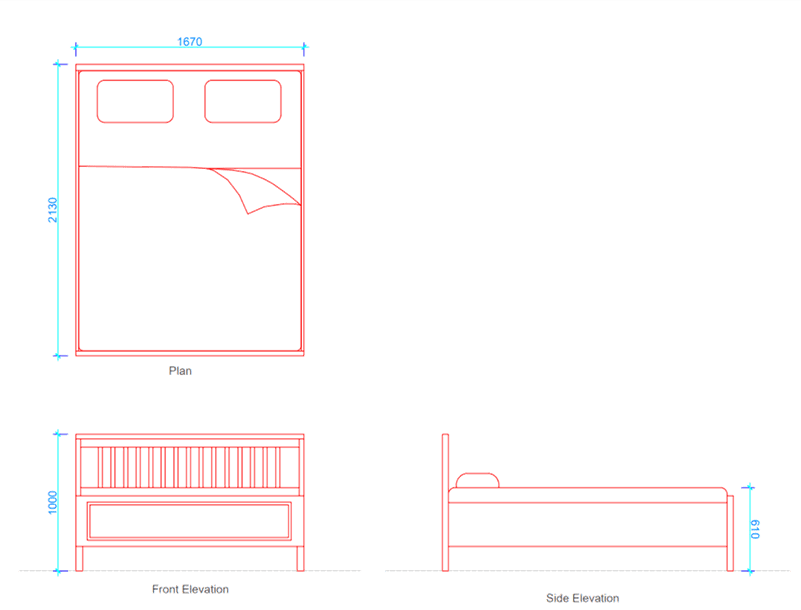 Related Questions?
Q1. What are the dimensions of a Bed?
The dimensions of a bed are Length: 1670 mm, Breadth: 2130 mm, and height (Back): 1000 mm. The height of the mattress from the ground should be 610 mm.
Q2. What is a Bed?
The bed is a piece of furniture that is supported by frames and have a mattress over it, where people sleep or rest.
Q3. What should be the minimum height of the bed?
The height of the bed changes as we change the size of the bed. The minimum height of a normal bed should be between 550 to 600 mm (50 to 60 cm) including mattress thickness. (From foot to mattress)
Q4. What are the advantages of having a bed frame?
Bed frames are not just a design element, they provide support to the bed and help us for better sleep and it also gives us space for storage through optional drawers.
Highlights
Dimensions:
Length :- 1670 mm
Breadth :- 2130 mm
Height (Back) :- 1000 mm
Height (Front) :- 610 mm
Materials:
Solid Pine Wood, Bamboo, [Acrylic, Cotton, Nylon for bedsheet and mattress]
Download: