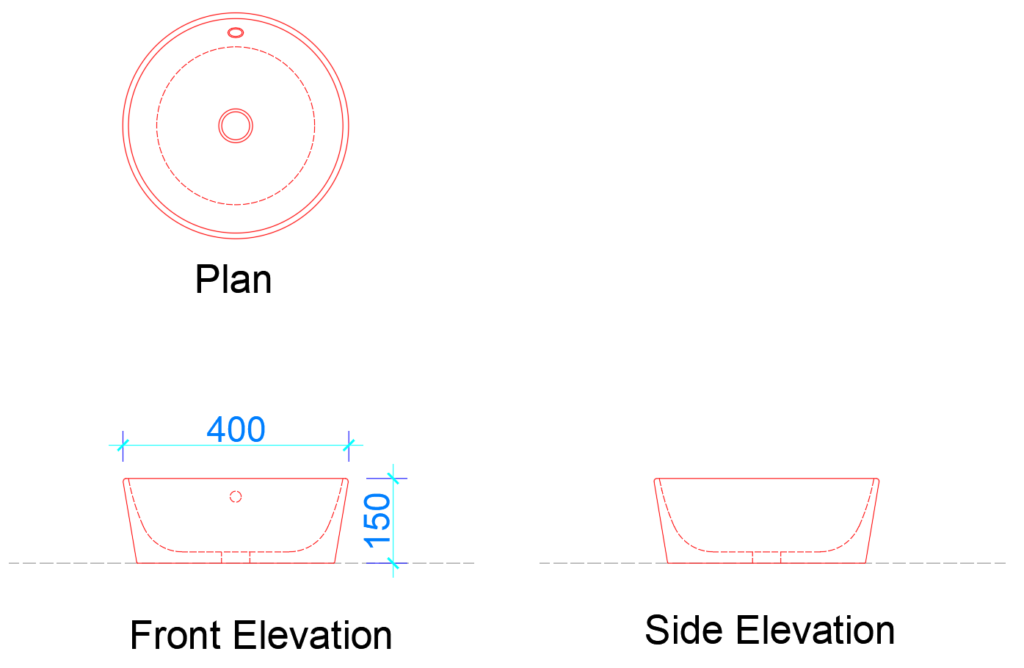 Related Questions?
Q1. What are the dimensions of a Bathroom Sink?
The dimensions of a bathroom sink are Diameter: 400 mm, and height (sink): 150 mm. The height of the bathroom sink is 830 mm.
Q2. What is the standard height of the Bathroom sink?
The standard height of the bathroom sink should be 850 mm. In the market, there are several options for different bathroom sinks and the heights are between 810 and 900 mm.
Q3. Distance of the bathroom sink from the wall?
The distance of the bathroom sink from the center to the wall should be 450 mm. This much distance is also required from other fixtures like the water closet, bathtub, bath area, etc.
Q4. How much activity area is required to use the Bathroom sink comfortably?
The activity area in front of the bathroom sink should be 600 x 450 mm (It can vary as per the length of the bathroom sink). Then it will be comfortable to use for the users.
Q5. Where to place a Bathroom sink in a toilet?
The bathroom sink has several options, like wall-hung, floor-mounted, and others. The preferable location of the bathroom sink should be in a dry area in the front with non-slippery tiles; because the sink is the most used fixture in the bathroom.
To read the detailed design and interior guide for the bathroom or toilet, click here…
Highlights
Dimensions:
Diameter :- 400 mm
Height (Sink) :- 150 mm
Height (From Ground) :- 830 mm
Materials:
Ceramic, Stone, Porcelain, Glass, Stainless Steel, Marble, Wood, etc.
Download: