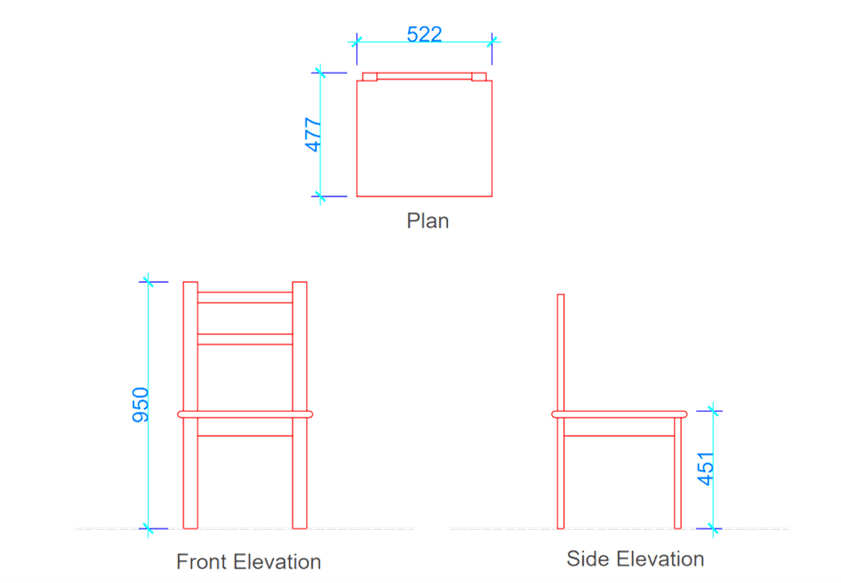 Related Questions?
Q1. What is Side Chair?
Side chairs are armless chairs with frames that are not completely deluxe. Because side chairs are typically easy to move and are manufactured with a large variety of styles and materials, side chairs are practical furniture items that are often used as dining chairs.
Q2. What are the dimensions of a Side Chair?
The dimensions of a side chair are Length: 522 mm, Breadth: 477 mm, and Height (Total):- 950 mm. The seating height of the side chair should be 450 mm.
Q3.  Use of Side Chair?
Often used for seating, in a specific place, it is used in the dining room as an additional seating chair. Can be used with a coffee table, as an option as an outdoor seating chair, etc.
Q4. What is difference between dining chair and side chair?
The dining chair Is used beside the dining table, generally, both table and chair are in the same theme, material, looks, etc.
Side chairs are very common in all settings, they offer the best use of space and are preferred for round and square dining tables.
Highlights
Dimensions:
Length  :- 522 mm
Breadth :- 477 mm
Height :- 950 mm
Seat Height :- 451 mm
Materials:
Wood (Main material), can be of any type, depends on the purpose and need.
Download: