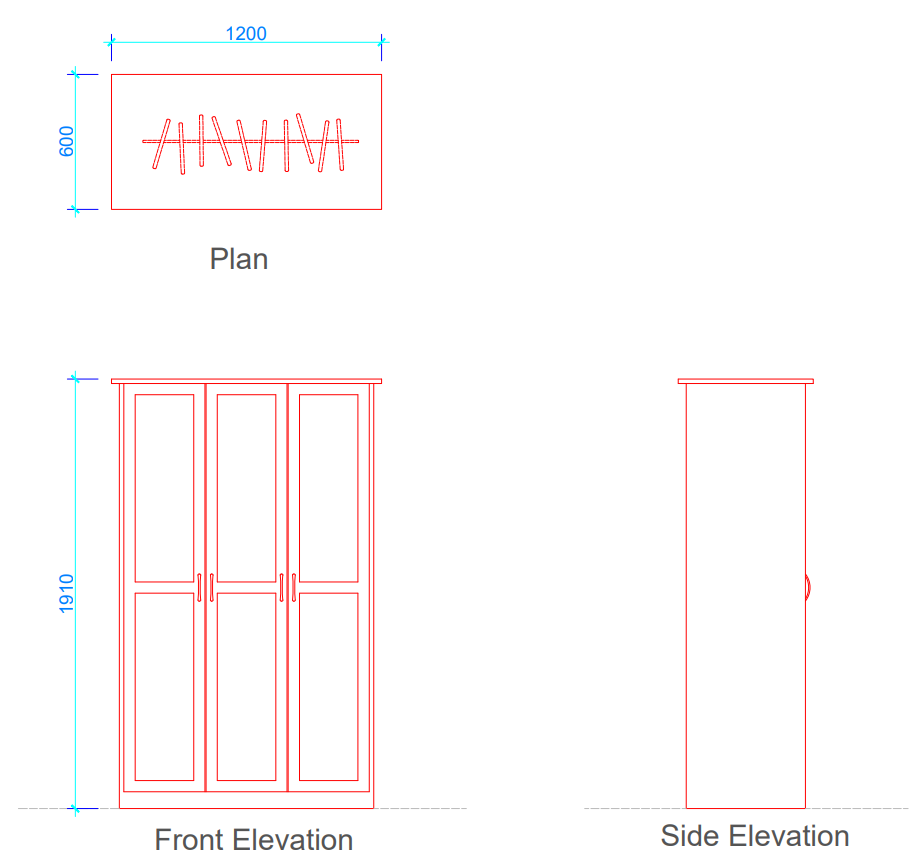 Related Questions?
Q1. What is Wardrobe?
A Wardrobe is a tall standing closet that is used for storing clothes and other dressing stuff. It has space for hanging the clothes and also includes drawers.
Q2. What are the dimensions of a Three Door Wardrobe?
The dimensions of the three door wardrobe are Length:- 1200 mm, Breadth:- 600 mm, and Height:- 1910 mm.
Q2. What should be the height of a Wardrobe?
The minimum height should be 1800 to 1900mm. These days, architects and designers are preferring 2400 mm, 2700 mm or full-height wardrobes because of aesthetics and to add more space options for clients.
Q3. Difference between Wardrobe and Armoire?
Both of them are used for storing clothes but an armoire is a special type of closet that can serve several purposes, while a wardrobe is generally used as an external closet to store clothes and have simple look in design.
Armoire also gives antique and vintage look which have more detailing and style components, while a wardrobe have simple and basic detailing.
Armoire have more storage options then wardrobe as it have shelves and drawers.
Highlights
Dimensions:
Length :- 1200 mm
Breadth :- 600 mm
Height :- 1910 mm
Materials:
Wood, Plywood, Hardboard, MDF (Medium Density Fiber), [Stainless Steel, Brass, Aluminum for Handle & legs], Glass (mirror), etc.
Download: