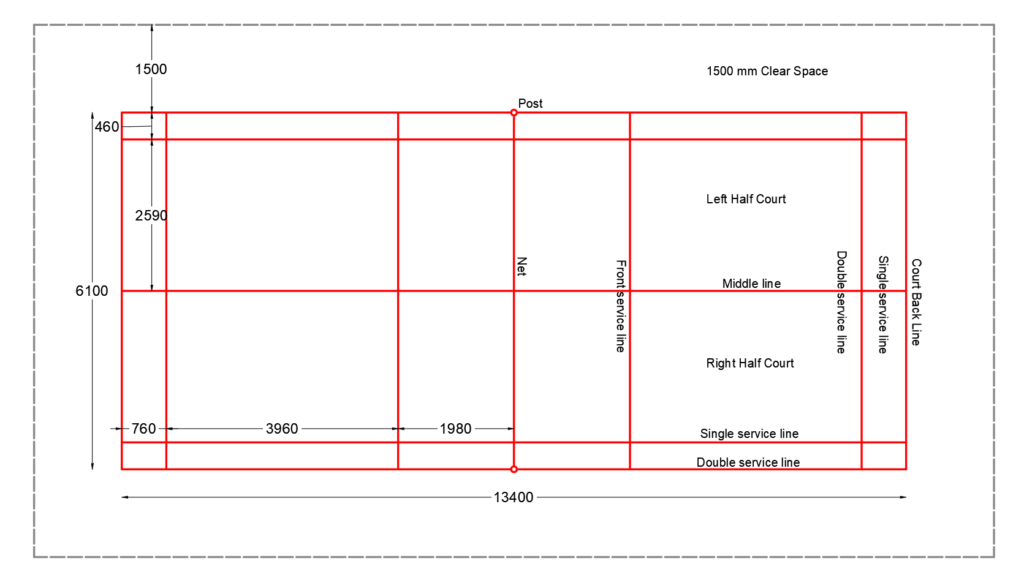 Badminton is a sport in which racquets are used to strike a shuttlecock from one end to the other over a net. Badminton is a game in which two people hit a shuttlecock over a net. It may be played by teams, although it is most usually played as "singles" and "doubles."
It can be played indoors and outdoors on a rectangular court. Players get the point when the opposing side doesn't strike the shuttlecock before landing on the ground.
Related Questions?
Q1. What are the standard dimensions of a badminton court?
The standard dimensions of a badminton court are 13400 x 6100 mm (44' x 20') with a clearance of 1500 mm (5 Ft) all around the court. The area of the court should be 81.74 Sqm. (880 Sqft).
Q2. What is the standard height of a badminton net?
The standard height of a badminton net is 1550 mm (5'). It is 790 mm (2.6') high from the ground, and the dimensions of the net are 760 x 6100 mm (2.5' x 20' ).
Q3. Guidelines to be followed while designing a badminton court in a space?
Outdoor
The preferred orientation should be north-south.
The flooring should not be slippery.
A minimum slope of 2% or 25mm (corner to corner or side to side) should be there for good drainage.
Consider wind direction while placing the badminton court.
Indoor
A clear height of 8000mm (26.2') is required for international games and a clear height of 6000mm (20') should be there for normal games.
We should avoid windows to make the space glare free.
The placement of artificial lighting should not affect the players or users.
Floor covering should be lightly resilient, it should not be hard.